Free Guide
Updated March 21, 2023
Boost Your Travel Affiliate Marketing Earnings with AI: 10 Best Practices for Bloggers
Learn how to use AI writers to create money-making travel content in a variety of formats—from SEO-friendly blog posts to compelling social media posts.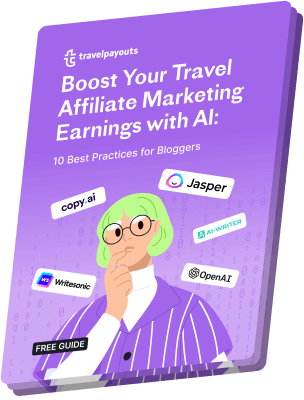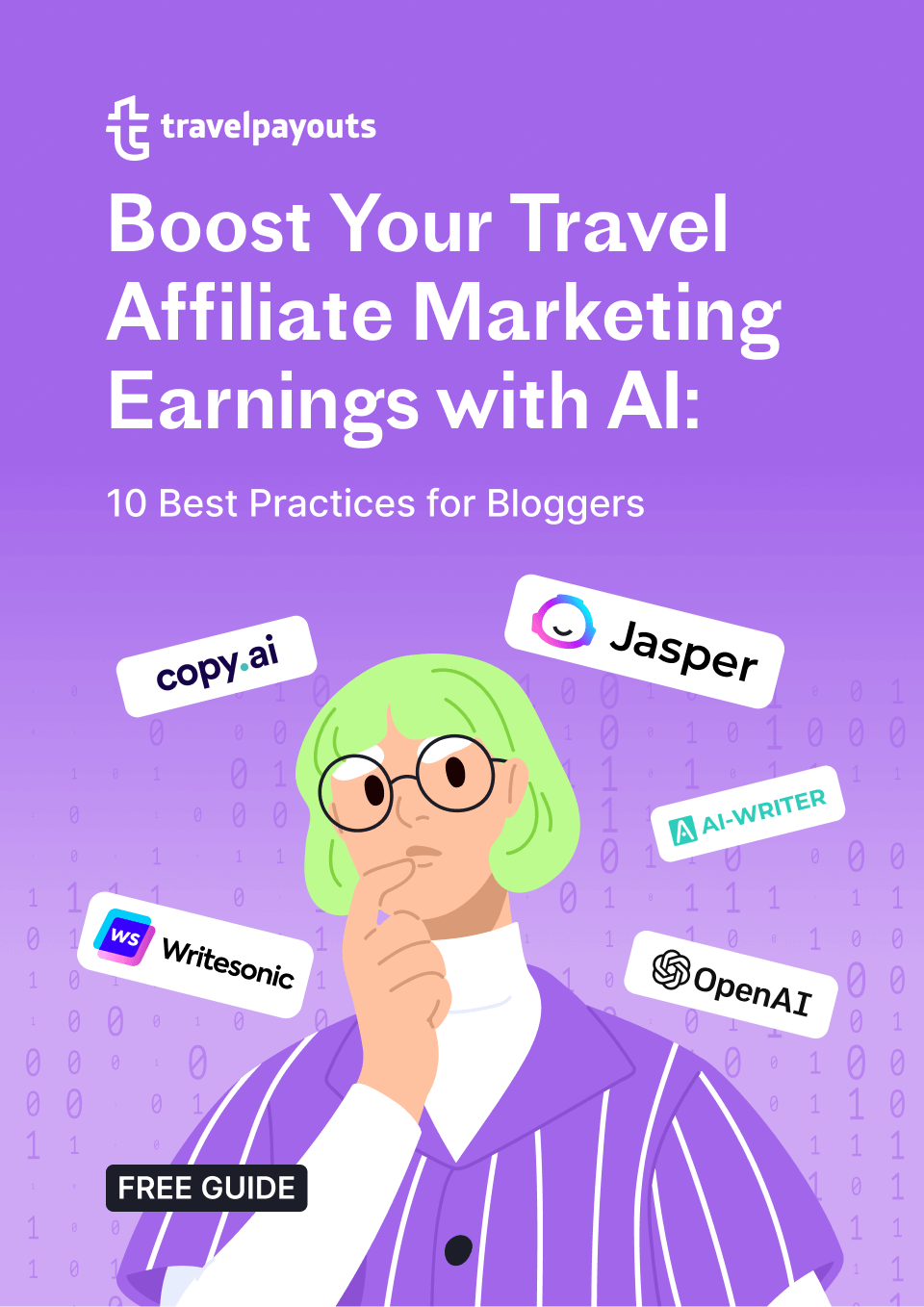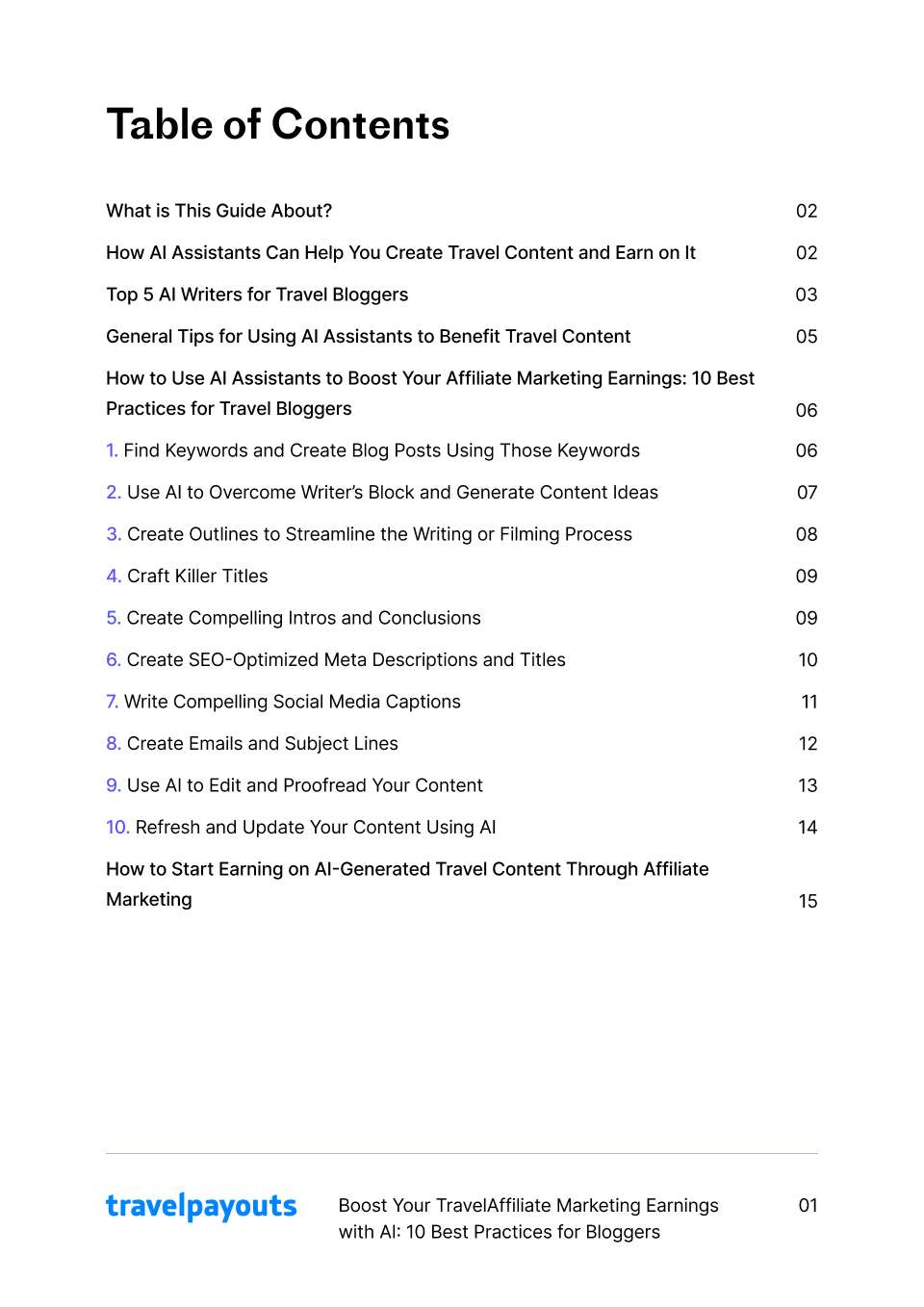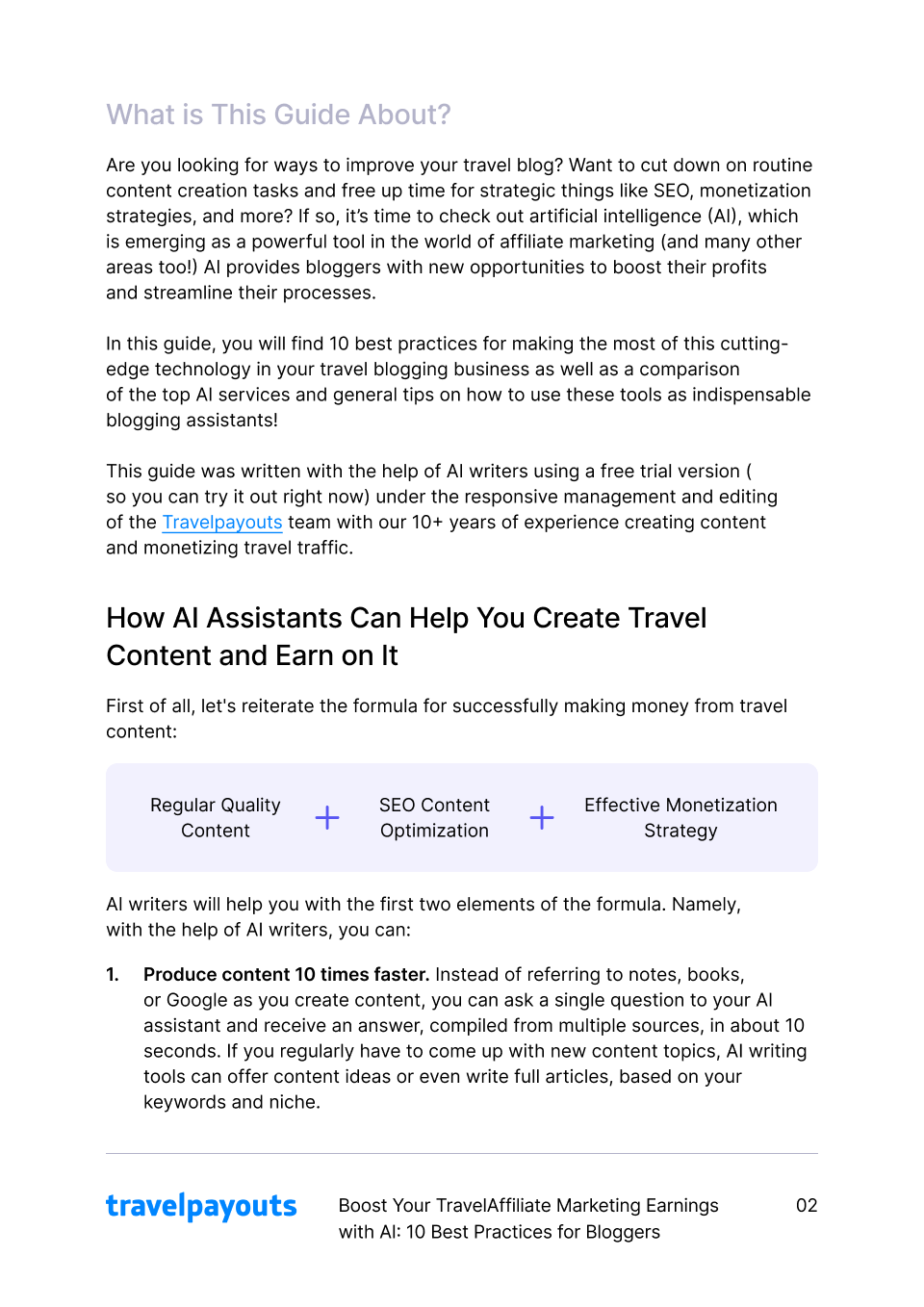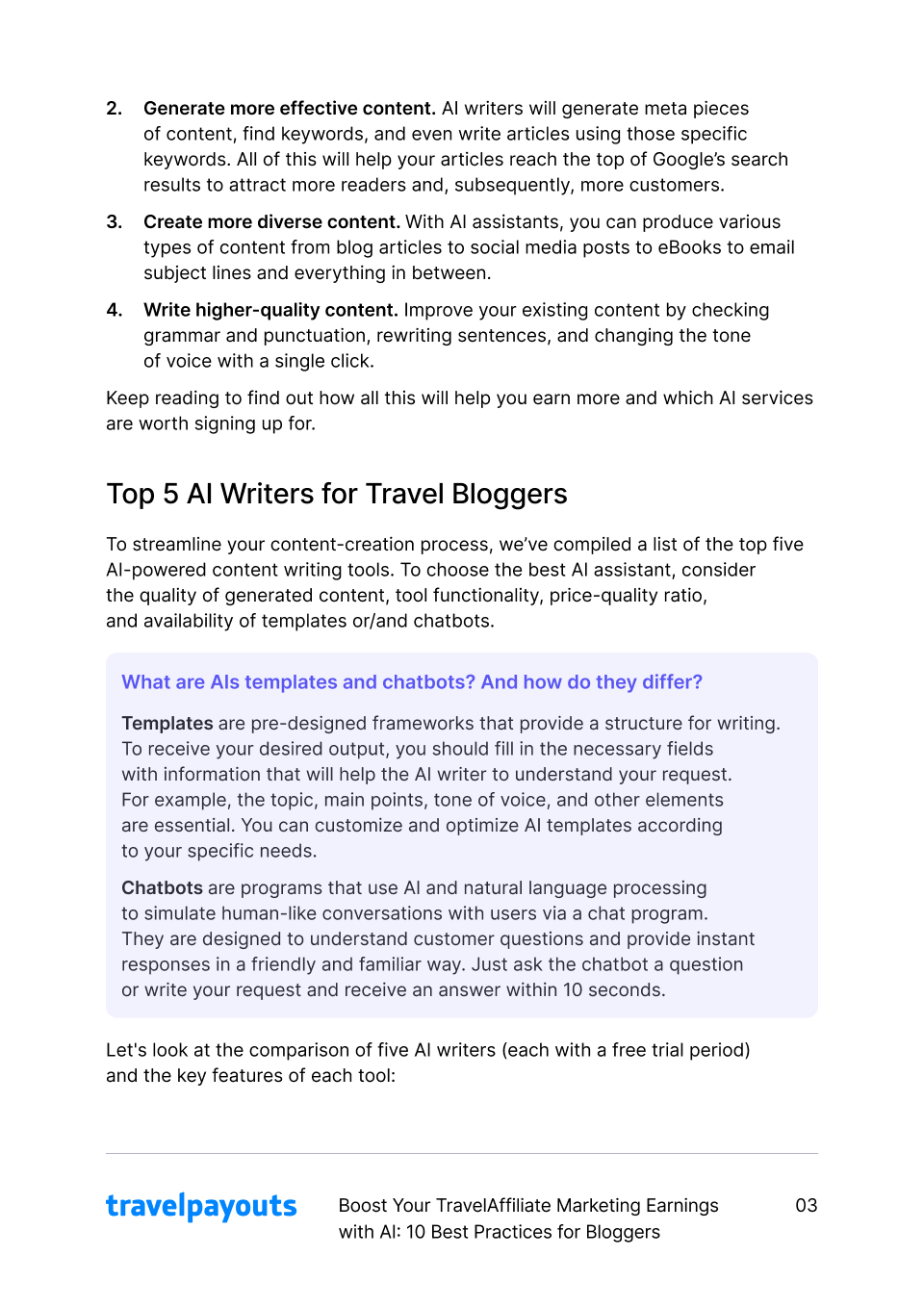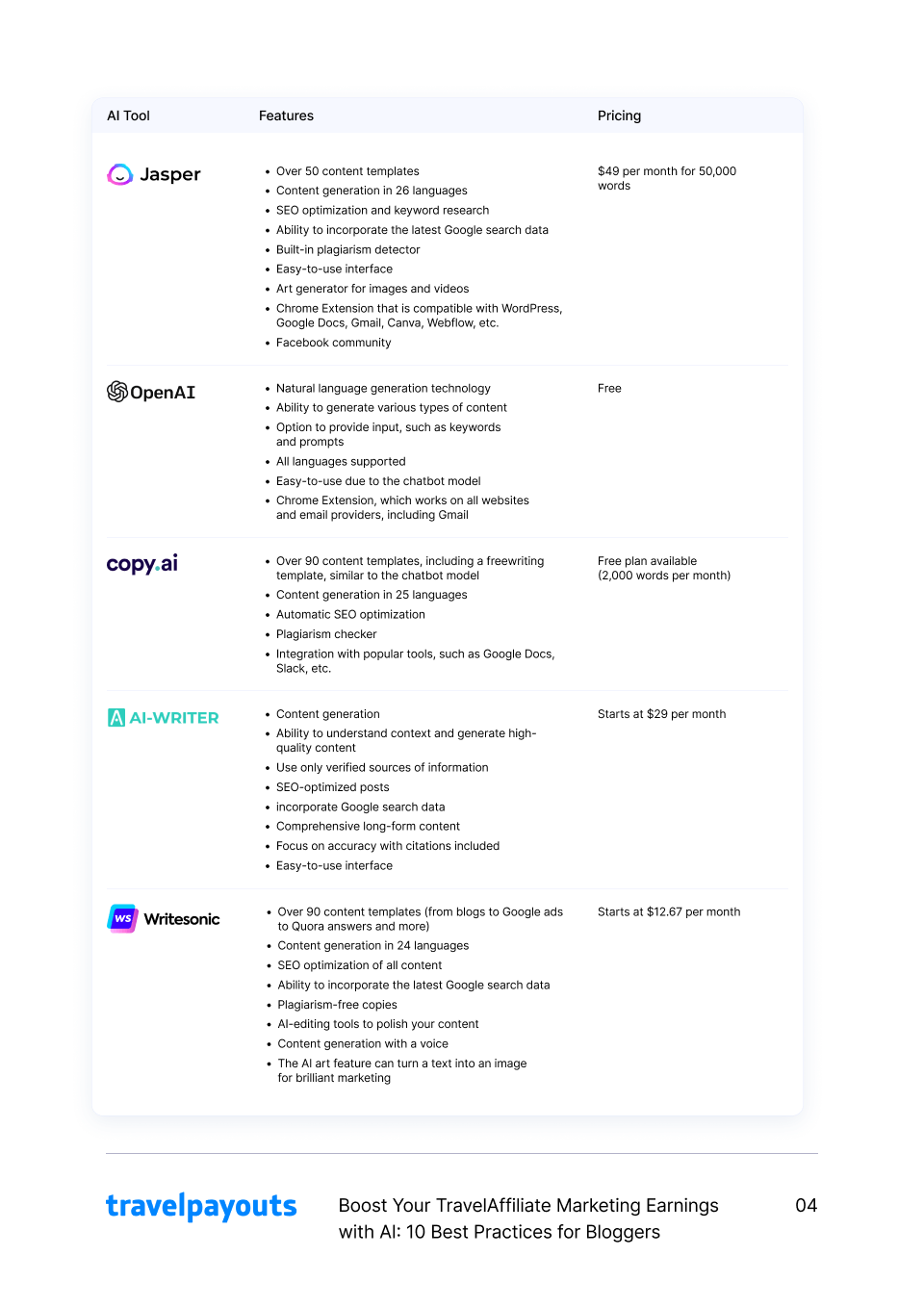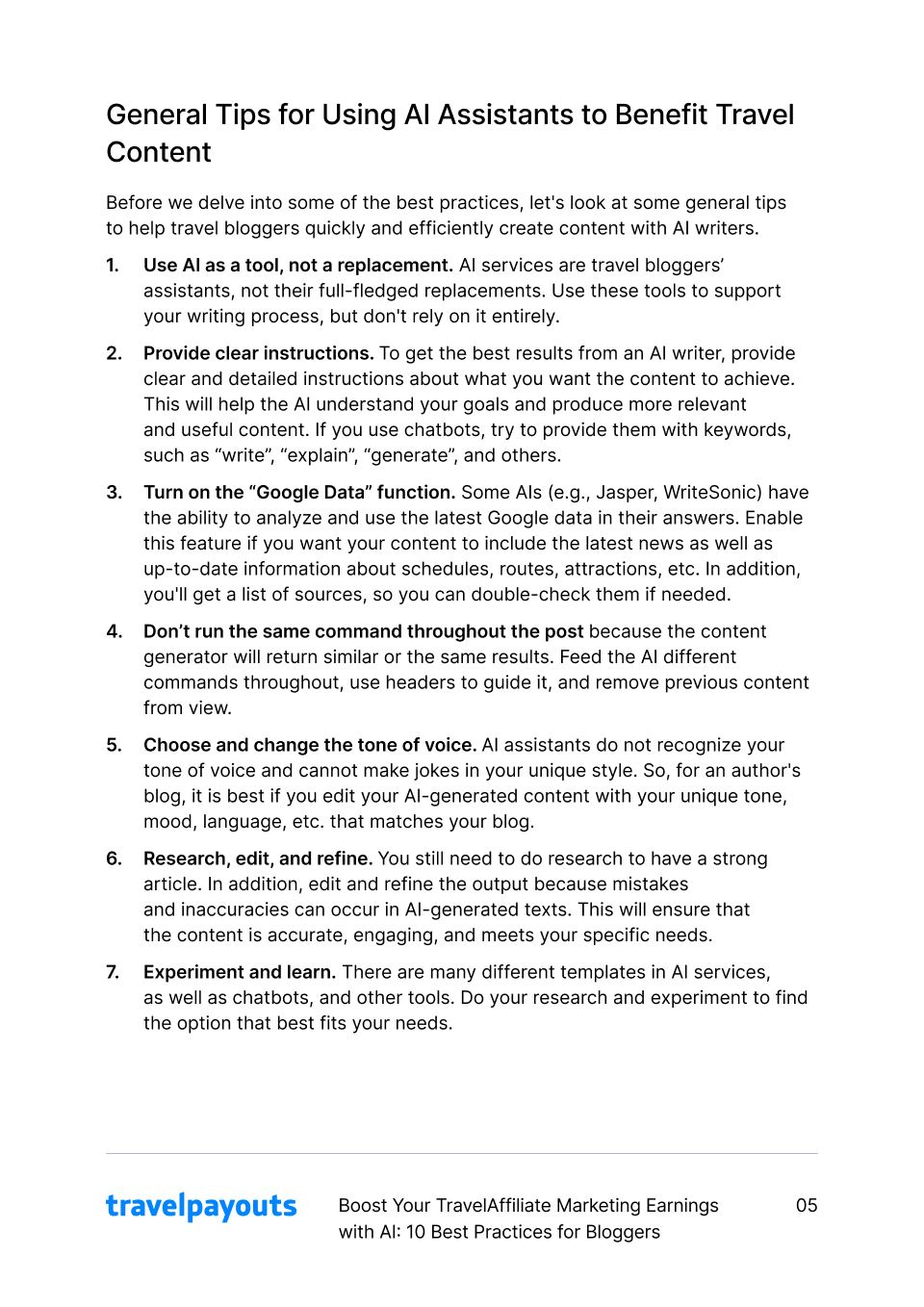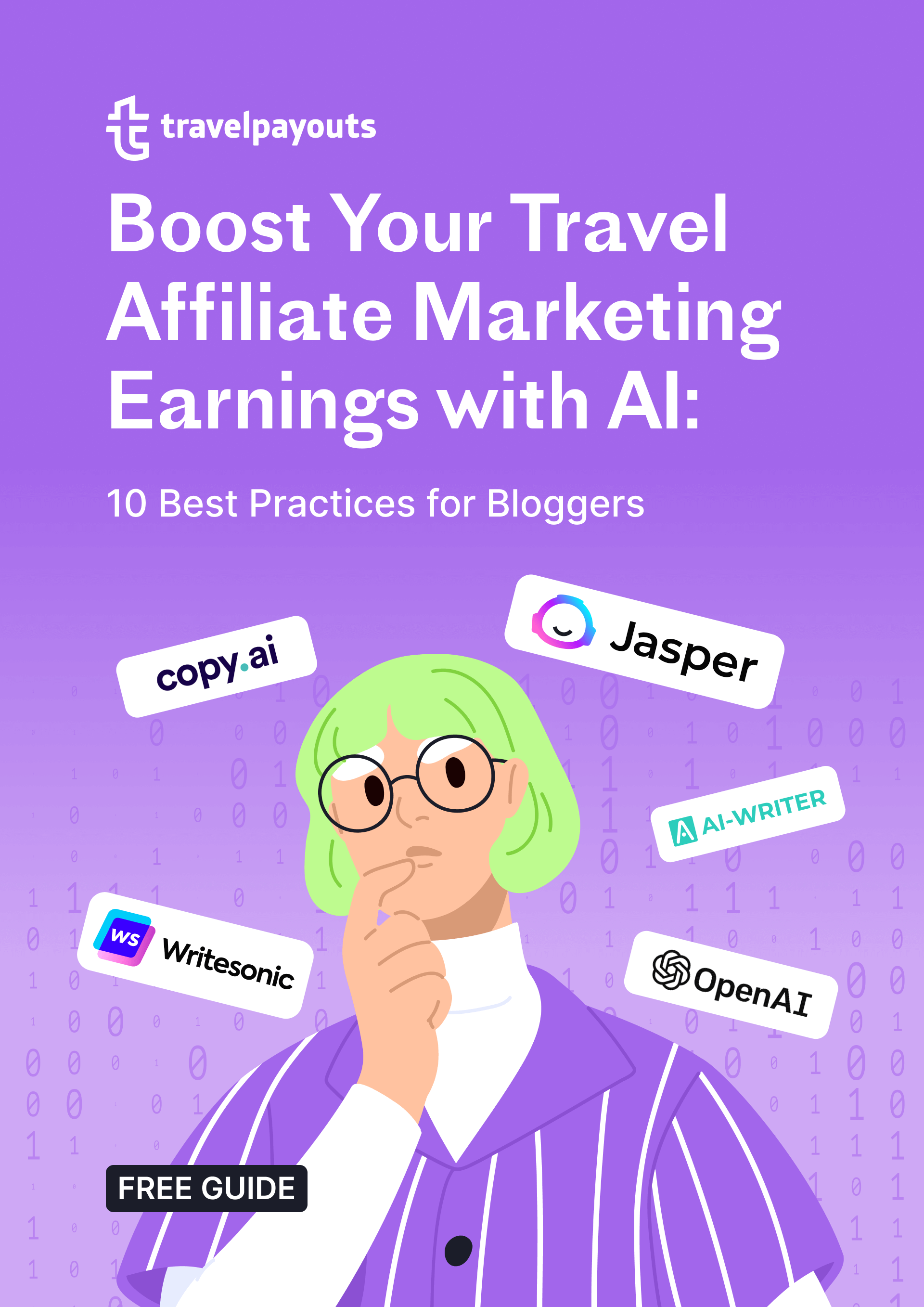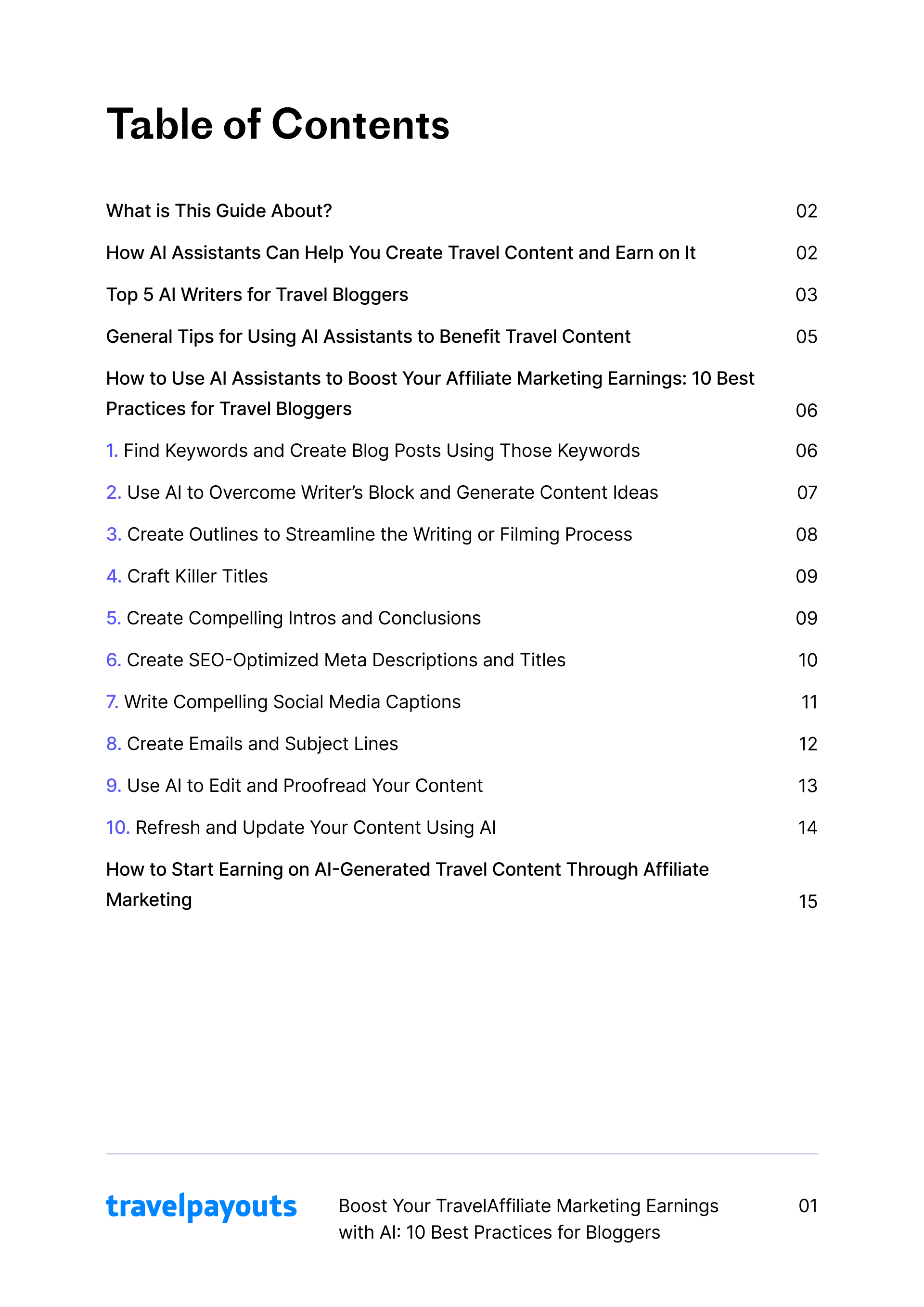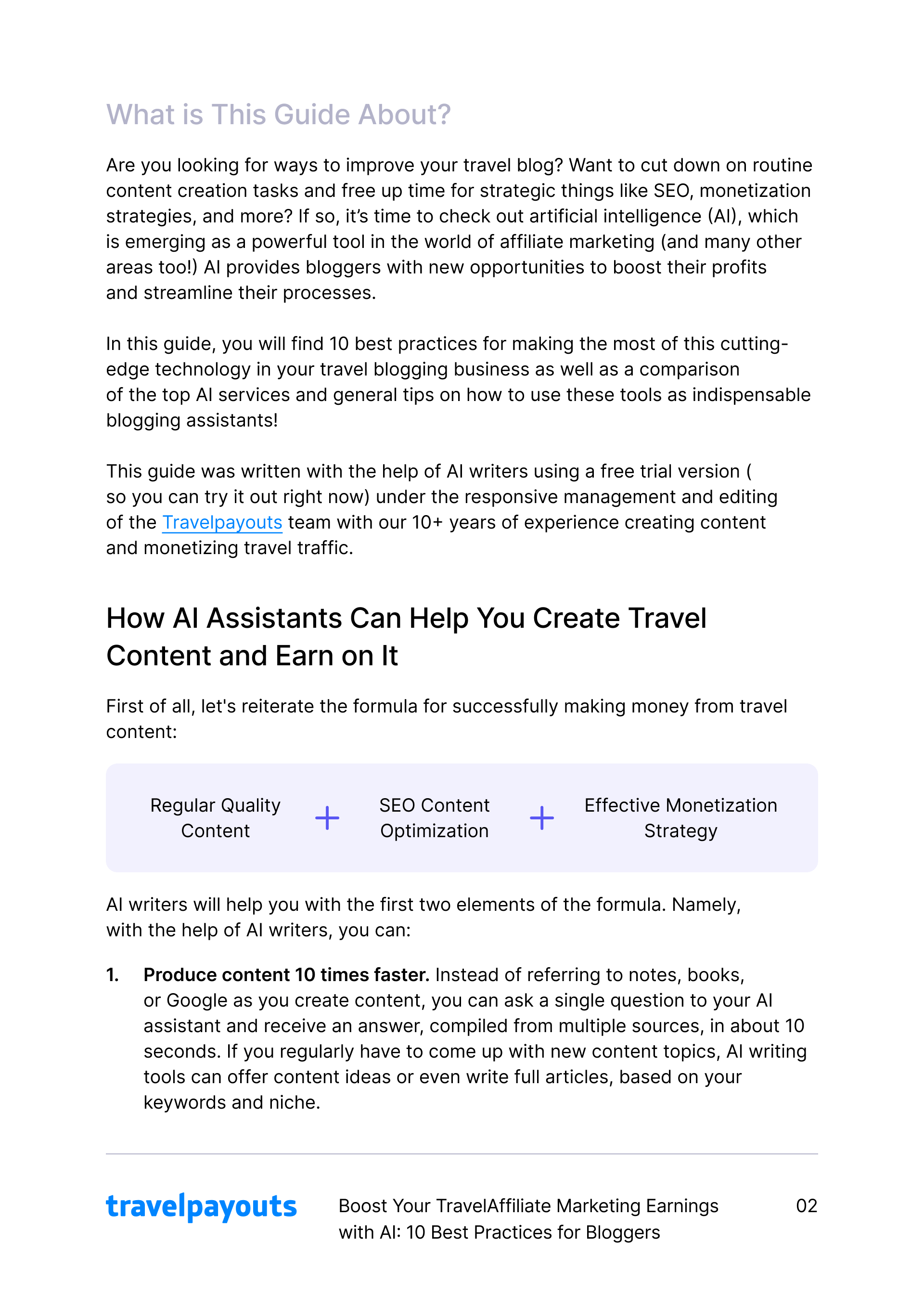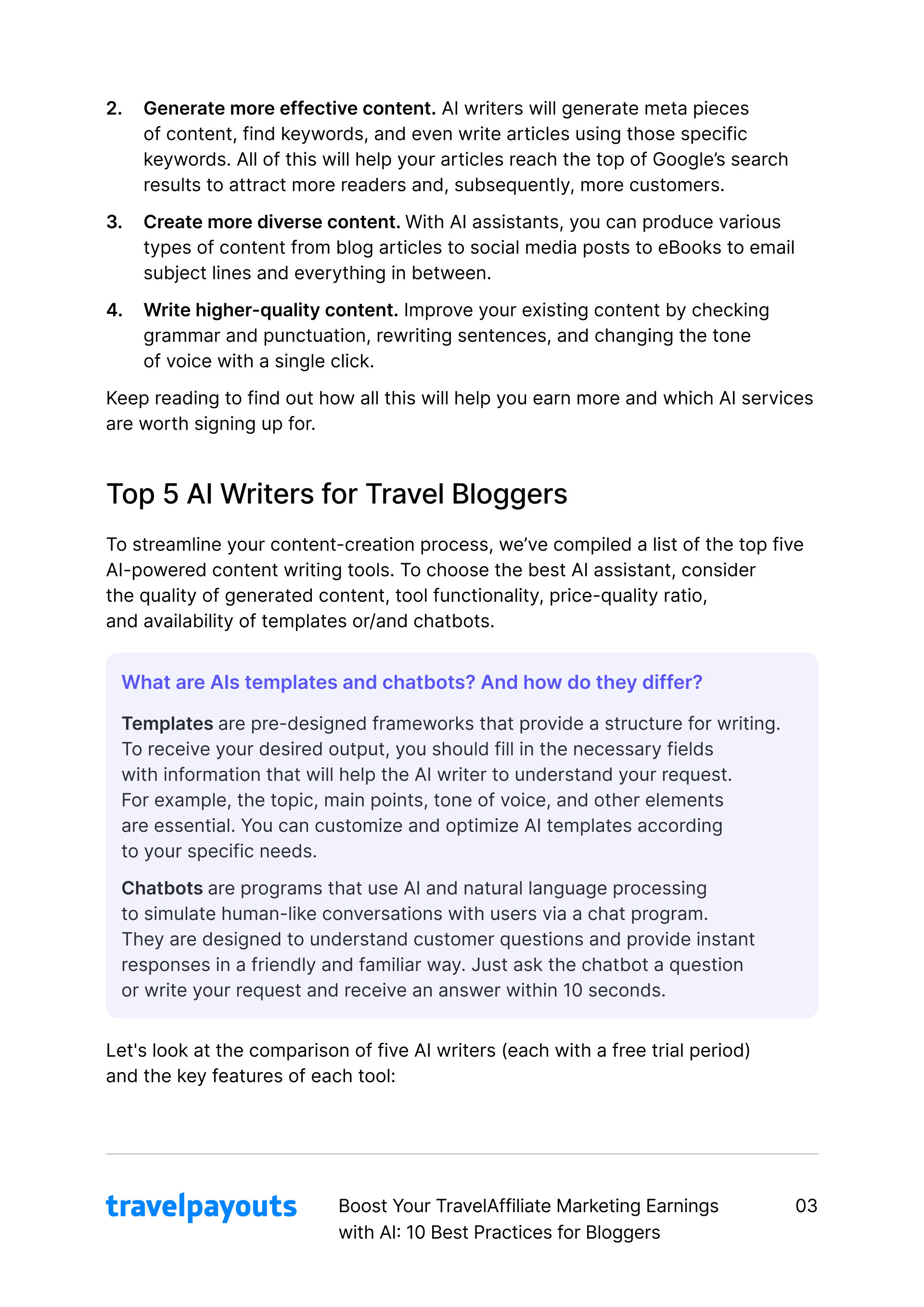 What Is This Guide About?
AI writers (such as Jasper, Copy.ai, ChatGPT, etc.) are gradually entering the life of travel bloggers to cut down on routine writing tasks and make the content-creation process both faster and easier. So, it's time to make technology work for you to free up time for more strategic tasks, like improving SEO, thinking of new monetization strategies, etc.
In this free guide, you will find 10 best practices for making the most of AI tools in your travel blogging business. In addition, you will find a comparison of the top AI services and general tips on how to use them.
What You'll Learn
How AI writers can help travel bloggers create content and earn on it
The top 5 AI assistants for travel bloggers
General tips for using AI writers to benefit your content
10 best practices for travel content creation for websites, social media, emails, etc.
How AI-generated content can help increase affiliate marketing earnings
FAQs
What are AI writers (such as ChatGPT, Jasper, Copy.ai, and others)?
AI writers are programs that use artificial intelligence to generate written content in a matter of seconds. These tools use state-of-the-art AI writing models to generate articles, small posts, outlines, images, and other types of content from just a headline or other prompt. With the help of AI writers. bloggers and other specialists who create content can automate their tasks.
Why should I use AI writers?
There are two main reasons to use AI assistants for travel bloggers who want to increase their affiliate income:
— More high-quality content. AI tools help bloggers generate high-quality articles, social media posts, and other types of content that will attract more readers to their sites. This increased traffic can lead to higher conversion rates for affiliate links and, ultimately, more affiliate income for the blogger.
— More free time. AI writers can free up time for travel bloggers to focus on other aspects of their business instead of spending hours writing articles or social media posts.
What are the best AI writing tools for travel bloggers who want to monetize their content?
To choose the best AI writing tool, you should consider the quality of generated content, tool functionality, price-quality ratio, and the availability of templates or/and chatbots. In this guide, we will compare five popular AI content generators to help you choose the best one for your needs.
Doesn't AI only generate low-quality content
If you've ever tried content generators in the past and were disappointed with the results, then you'll definitely be impressed with what they have to offer now. Modern AI writers create high-quality content that is both unique and engaging. In order for you to appreciate the quality of AI-generated content, we wrote this guide with the help of five AI writers (but under the responsive guidance and editing of the Travelpayouts team).
Don't AI assistants defeat the purpose of blogging (which is to write content)?
These days, in most cases, blogging has become more than a hobby. Now, it's an opportunity to earn a decent income. In other words, for many bloggers, it's a job. AI assistants are simply helping to optimize that work, so bloggers can pay more attention to monetization and increase their income. Content ideas, research, editing, and the other final decisions are still up to you.
How can travel bloggers make money by using AI assistants for content creation?
AI writers allow you to create SEO-optimized content that engages readers. The more people who visit your site, the more opportunities you will have to make money. For example, contextual advertising or affiliate marketing (earning money from referring people to the services and products you use) are both great approaches.
How can I become an affiliate partner and start earning money from my content?
To become an affiliate, you first need to join a partner program of one of your favorite brands. You can go directly to the brand's website or join an affiliate network/platform, such as Travelpayouts. We recommend the second option because you'd be able to join several partner programs and easily compare their performance.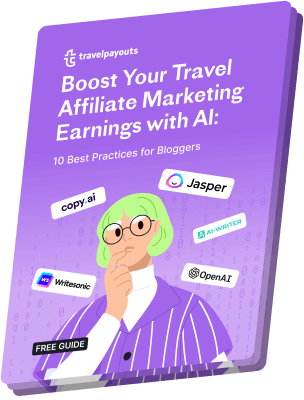 We would be willing to bet that your competitors are already using AI writers. Don't let your travel blog fall behind. Download the free guide.
Download the Guide